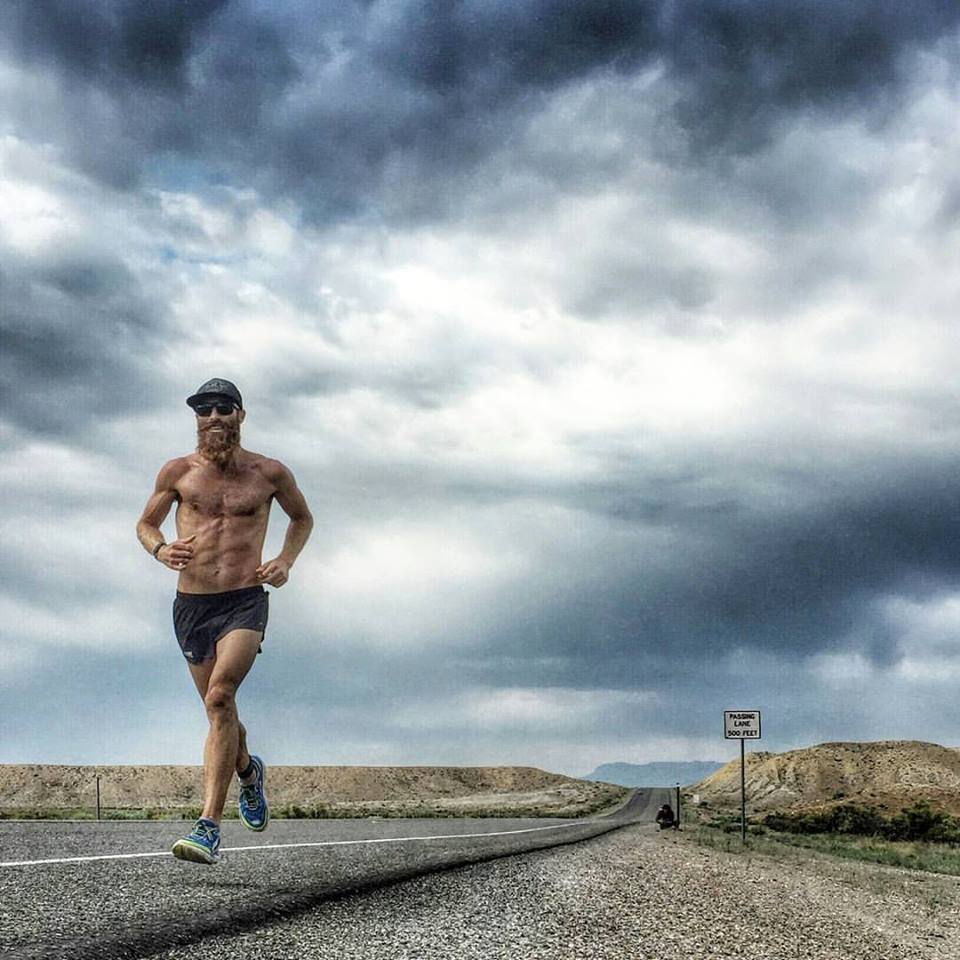 When my husband and I first met, running was mostly a hobby for him.  Yes, running paid for his university degree and facilitated our ability to live in Hawaii for 8 years, but we were still poor, struggling students with nothing but a couple of surfboards and an old Ford Ranger to our name.
Our first daughter was born while I was doing a Masters degree at the United Nations University for Peace in Costa Rica (damn hippies, right?  Now you're onto us…)  After her birth, shit got real, so to speak.  The pressure was on for us to become somewhat responsible adults if we were to be entrusted with the life of another human.  
For a lot of people, this means getting a stable job, buying an income-appropriate home, trading in Walker Texas Ford Ranger for a minivan, relinquishing lofty dreams to the good old days and maybe getting an overpriced purebred dog.
I have to admit that I was tempted by the image of normalcy- the American Dream if you will.  There is a particular allure to consistency, stability and conformity, especially when rearing a child.  My interests rapidly switched from travel, conflict journalism and the ever-plaguing White (Wo)Man's Save The World complex to budgeting and white picket fences.
My husband, on the other hand, unadulterated by postpartum minivan hormones, maintained that having a child didn't negate his desire or ability to become what he had always wanted- a professional endurance athlete.
Not that there is anything wrong with living a predictable, responsible life.  I mean, if everyone was like "F-it, let's reject the American workforce and all become professional athletes!" we'd really need to make America great again.  
But it takes all sorts to create a dynamic society, and so we moved to Flagstaff so that my husband could train at altitude and keep chipping away at his goals.
I did my best to maintain a good attitude about remaining relatively impoverished despite our potential to make a decent, stable income. Between the 2 of us, we had 4 college degrees, and yet we were working as servers at a local restaurant to pay the bills so that my husband could train sufficiently and I could stay home with our daughter during the day.
We were happy, and yet extraneous pressures were telling us that this was not enough-that we needed to grow up, become responsible adults and get those 9-5s.
I can remember one winter evening when my husband told me "It will all be worth it one day."
We were huddled around the one heat source in our house- a 3ft by 4ft Mordor-esque heat vent in the middle of our living room floor that I'm sure is all sorts of outdated and illegal.  Our bookshelf was made out of 2 cinder blocks and a plank of wood.  Our bed was a mattress on the floor.  If we wanted mindless entertainment, we sat in front of our small laptop to watch 99 cent Redbox movies.
And even though we had so little, I can remember feeling so happy, and so fulfilled with our simple life.  My husband's almost apologetic words were appreciated, but I recall thinking, in that moment hunched over Mordor, that I was completely content with what we had.
We have since moved away from the Mount of Doom and into a comfortable home with a modern heating system (#goals).  My husband is a successful athlete.  I am a mother that is fortunate enough to stay home with my babies.  But looking back, we were no less happy then, even with so much less to call our own, materially speaking.  
Lately I've been reflecting on how, as long as our basic human needs are met (food, shelter, health), income has little effect on our happiness if we are doing things we love with people we love.
A friend recently sent my husband a quote by David Blaikie about ultrarunning and it got me thinking about this whole shebang.
"Perhaps the genius of ultrarunning is its supreme lack of utility. It makes no sense in a world of spaceships and supercomputers to run vast distances on foot. There is no money in it and no fame, frequently not even the approval of peers. But as poets, apostles and philosophers have insisted from the dawn of time, there is more to life than logic and common sense. The ultra runners know this instinctively. And they know something else that is lost on the sedentary. They understand, perhaps better than anyone, that the doors to the spirit will swing open with physical effort.
In running such long and taxing distances they answer a call from the deepest realms of their being – a call that asks who they are …"
Now I'm no ultrarunner (This past Thanksgiving I dropped out of a 10K Turkey Trot a week after my husband ran a 50K under the Middle Eastern sun.)  But I think this quote applies to anyone who is in tune with what they really want to achieve in life.  
"There is more to life than logic and common sense."  This is the line that hit me hardest. What makes sense to some as a respectable, responsible life might not resonate with the deepest realms of our own being.  And that's ok.
Just do what you love, with the people you love and to hell with those that tell you it's not enough.