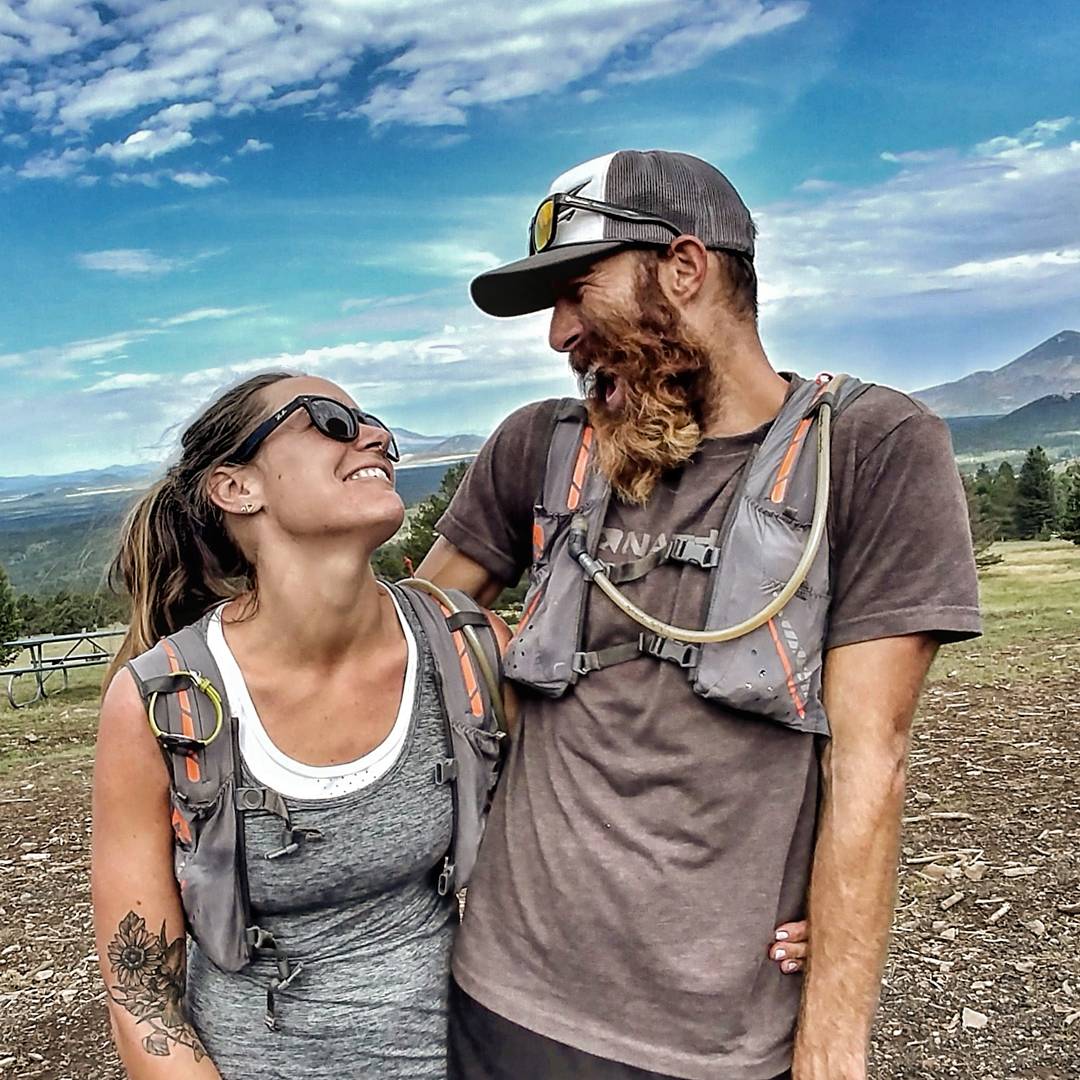 This Saturday, I worked my last shift as a waitress, likely forever.  I came home from my bittersweet final night at 11:30pm, was awoken at 4:15am (like clockwork) by a vocally persistent 1 year old and left at 6am to meet my friend Jenny for a run.  (My husband had left at 4:30am to meet some other friends for a much longer run.)
Jenny and I were planning on running just over 6 miles up the Arizona Trail, climbing about 2000 feet to meet some friends at the summit for the grand finale of a local event dubbed "Le Tour de Snowbowl."
The Flagstaff tour was held over the 21 days of Le Tour de France, headed by local restaurateur Caleb (who also happens to be my former boss and one of my husband's best friends).  His intention in holding the tour was to motivate the community to run, bike or hike up a mountain for the promise of comradery and a free pizza at his restaurant, Pizzicletta.  And if you've ever eaten Caleb's pizza, you know that climbing a mountain at the buttcrack of dawn is totally worth ingesting its deliciousness.
I rolled up to Jenny's house right on time, apprehensive about the physical feat of endurance that lay ahead of me.  I knew Jenny was quite the runner and had climbed the same trail multiple times.
On the other hand, my running escapades had been mostly limited to structured treadmill runs while jamming to Despacito and the occasional Ke$ha hit music video on my uber modern gym running machine while a bunch of angsty-yet-kind teenagers watched my children for 45 minutes.
I had prefaced my run with Jenny by telling her to drop me if I was running like a 6 week old Pomeranian on a waxed hardwood floor (just picture it and you'll totes ROFL.)  I had given myself 2 hours to accomplish the climb, but was apprehensive whether I would make it to the mandatory 8:30am Tour de Snowbowl summit time.
We started our run on schedule, and Jenny benevolently let me set the pace.  We talked and laughed our way through the first few miles, and I kept waiting to bonk and beg to stop for a breather.
But a funny thing happened as I ran up (and up and up) through Ponderosa Pines and Aspens, the trail muddied and soft from the monsoon rain earlier that morning.  As the sun gradually made its bold appearance in the Southerwestern sky, I found within myself an undeniable sense of determination.
"I can do this," I thought, emboldened yet stunned by the relative effortlessness I felt as I ran.
We continued to climb, stopping only for a few sporadic socially-mandated Insta Stories, and made it to the top 40 minutes before the 8:30 morning curfew.
I played it totally cool at the summit (don't worry, I totally know how to work social mores) but inside I was beaming with pride and satisfaction.
"Oh hey, did you just run up?"
"Oh yeah, totally.  Not biggie.  Just another day, amiright?"
I'm sure to many of you, climbing mountain is just another day on the trail-a warm up or cool down run, even.  But to me, a quintessential life coaster, it meant so much more.
Jenny and I waited for the others to arrive at the designated Tour de Snowbowl congregational area, snacking on the Nibs, Pop Tarts and Tang that my husband had lovingly stashed in my hydration pack the night before when I was at work.
After a while, I saw my husband's glistening chiseled bod and Zeus-esque beard make its way through the Snowbowl parking lot.
"You did it!" he exclaimed proudly, although I knew he never doubted that I would. It's no exaggeration to state that my husband usually believes in my physical capabilities more than I believe in my own (ahem, see previous posts).
After some hugs with fellow Flagstaff crazies and a Tour de Snowbowl photo, I was ready to get hitch a ride back down the mountain as planned.
"You should just run down with us," my husband suggested in his all-too-convincing tone.  "We'll take it really easy."  (The things I've done at the mercy of that kindly persuasive man #threekids.)
In my mind, it was a miracle I had climbed the 2000 vertical feet up.  There was no way I was planning on running back down.  I had made definitive plans to drive with a friend back to my car at the base of the mountain, because that's what normal people do after running for an hour and a half.
But there I was, 5 minutes and a few sips of Tang later, running in between my husband, Brian Tinder (who unfortunately was fully clothed) and our Wisconsin friends Annie and Brian, down the trail I had just mentally high-fived myself for summiting as a life-achievement feat.
We cruised down the trail at a speed I would definitely not categorize as "easy."  I tried to throw my husband a few "is this what you call cruising?" death stares, but due to the narrowness of the trail, the glances went totally unnoticed.
But you know what?  I survived.  And you know something else?  I actually enjoyed myself.
As we approached the bottom, I thought about how so much of what holds me back in life is all in my head.
I honestly hadn't thought I would be able to make it to the top of Snowbowl.  I had tried to think of every excuse to avoid meeting Jenny that morning (Late night?  Nocturnal baby? Night terrors?  Clowns?  The Russia probe? Kim Jung Un?) but somehow, I was doubling the mileage that I had originally thought I was capable of.
It made me realize that for most of my life, I have found comfort in mediocrity.
I drift through life in relative ease, burrowing deep in a nest of the daily grind.  I rarely push myself too hard.  I live snugly in the background, viewing the extraordinary as a feat that only others (such as my husband) discover.
I haven't yet decided whether it's the fear of failure or the fear of success that holds me back.
Both are equally daunting.  If I find success in my pursuits, I'm bound to a life of expectation, pressure and self-criticism.  If I fail, I run the risk of never trying again.
Potential is not what holds me back. It's the fear of meeting it that haunts me.
I am extremely content living in the beautiful banality of everyday life.  It's a blessing and a curse.
And while I am sincerely happy in my day to day life, it is miraculous to experience the catharsis that comes from pushing a little (or a lot) harder than what I deem normal, or comfortable.
Pushing through the pain of climbing, heavy legs and labored breath, I found within myself an unfamiliar sense of resolve to be more than complacent in my own life.
As I climbed and descended that beautiful mountain, I learned, through the beauty of constructive suffering, that I am capable of so much more than I give myself credit for.